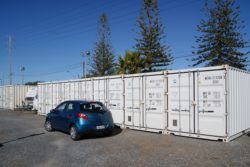 Flexible storage options for when you need it
Need to make more space at home or work? Moving house and need to store your furniture? If it's storage you're after, we've got you covered.
Why choose A Grade Shipping Containers?
Made of Corten steel
Being constructed of Corten steel, A Grade shipping containers provide a high level of security, flexibility and protection from the elements- after all it's what they were designed to do in the first place!
Added ventilation
All our containers have either been specifically designed with in-built ventilation, or have had this feature retro-fitted. This ensures adequate ventilation for your stored items whilst keeping them dry and protected.
Security
All containers are professionally built to survey standard and fitted with rubber seals and high level locking systems for your peace of mind. You use your own padlock and keep the keys so you have total control over access to your unit.
Flexible storage options
We have over 90 shipping containers of various sizes (from 6 to 65 cubic metres). The double security doors allow full width access to the space. You can install shelving or even drive a vehicle or motorbike into the unit for covered storage.